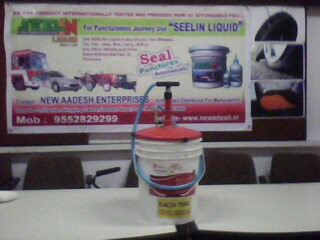 SEELIN "THE SAFY SYSTEM"
There are many sealants currently on the market, but SEELIN is widely recongnized as the most effectife and advanced product available.
To domonstrate our product is on approach where the emphasis is an preactical demonstration of exacitly how the product works and potential customers are frequently offered an opprtunity to try before they buy.
The sealant, which remanis in its gel like state for the life of the tyre, is professionally installed into the tyre through the valve stem after the removek of the valve core.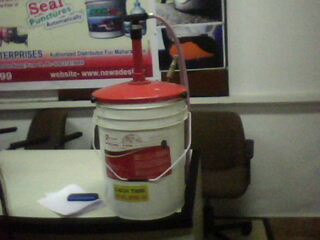 As the tyre rotates, centrifugal force evenlt spreads SEELIN over the entirety of the internal tread area, coating the internal tread the area with a minimum 2mm coating of sealant. The coating repairs leaks immediately a penetration occurs as thousands of strong interlocking fibersbreact instantly scaling around the puncturing object thus preventing loss of air.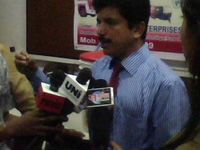 Under inflation is the biggest cause of blow outs and excess tyre wear. Under inflation generates execss heat(a tyres biggest emeny). Most tyres run under inflated because a tyre lses air via the microscipic pores in rubber (porosity leaks). Because of the manufacturing process involved in tyre production, the microscopic pores are ONLY evident with the tread area. SEELIN'S advanced firmulation claminates air loss and provides complete puncture product.


SEELIN is a laboratory tested and road proven tyre sealant, which instantly and permanently seals puncture in the tread area caused by puncturing objects up to 8MM in car tyres and 12MM In commercial vehicle tyres.
It reduces under inflation and is beneficial to the life of the tyre as it helps to maintain constant air-pressure, extending tyre life and improving fuel ecomony.
ENVIRONMENTLY SAFE
The ingerdients in SEELIN are non-hazardous, non-toxic and biodegradable. The product is fully water soluble and may be washed away with water. this enables commercial tyres to be reused by way of re-treading or re-mixing.

NEW AADESH ENTERPRISES
Authorised disbuter in maharastra state for seelin liquid(Anti Punture)

Office: Shop No 11, Chandan Shopping Centre, Near Shivaji Statue, Chandan Nagar, Pune 14
Contact: Mr. Prabhakar Sonawale, 9890819595 Director Mr.Atul Walke 9850739977 Director, Mr P. G. Nikat 9552829299 Sales and Marketing

ROTARY INTERNATIONAL"Rotary Service Week from 28th nov to 5 dec, 2010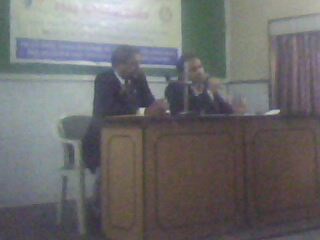 Rotary service week various programs will be organized all over mumbai, thane, dombivali & kalyan area. rotary club of bombay queen city (www.rotarybqc.com) organizes their flagship project "the phoenix mega medical camp" as lead club since 2006 at phoenix towers, senapati bapat marg, "lower parel, mumbai400013. from 3 to 5 dec , 2010 between 10am to 5pm. this is the 4 consecutive year of this event and more then 3000 patients were examined on each of the previous three occasions free of cost. FOR MEGA MEDICAL CAMP PLS CONTACT RTN.PADMAKAR NANDEKAR (PRESIDENT) mobile 9702999999/9930928440
HOME
Lions clubs internationals personalized services day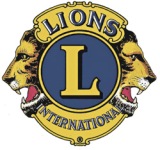 Lions clubs internationals is a services organization, spread in 206 countries and geographical areas. The international headquarters for both lions clubs international and the lions clubs international foundation is in oak brook, Illinois USA. In the year 1917, a Chicago business leader Melvin Jones asked a simple and world-changing question – what if people put their talents to work improving their communities? Almost 100 years later, we have 45,000 clubs and 1.35 million members making us get smaller and communities get better. That's because members help where help is needed- in our own communities and around the world- with unmatched integrity and energy. We are lead by talented, dedicated volunteer leaders & social workers form around the world, and we are supported by the lion's clubs international foundation (LCIF) which provides funds for lion's humanitarian projects.
Lions district 323 A1, year after year, organizes a function on world personalized services day which falls on 8th October. The October services week starts from 2nd October on Gandhi jayanthi day, and culminates in to finale day function on 8th lala lajpatrai collage, haji ali, Mumbai. Eminent social workers from NGO. Will be facilitated and honored along with lions who have put in their valuable services during their tenure as lions member. All the 61 clubs in our district will participate in the October services wheel conduction projects worth cores of rupees on different service activates. sight first medical camps polio corrective surgeries giving aid to handicapped persons l intra ocular lenses for cataract operation osteoporoses and body mass index camps etc. a list of various day to day projects conducted by different clubs is attached herewith,. The total amount of projects conducted during the service week works out to more then Rs.5 core.
The slogan of international president lion Sid l Scruggs III beacon of hope to the downtrodden section of our society, that we lions of district 323 A1 under the leadership of district governor lion haresh soosania will lead them towards our mission with vision

transport body in the country to introduce a semi-luxury air-conditionedbus. Ii will bridge the gap between the existing MSRTC will now launch a new air-conditioned semi-luxury bus SHEETAL with an air suspension system. MSRTC is the only shivneri A/C & semi-luxury(non-a/c) bus facilities. THE FIRST SHEETAL bus was introduced on the roads today by state transport minister hon'ble shri radhakrishna vikhe patil. SALIENT FEATURES -MSRTC is the only STU in the country to provide an air-conditioned semi-luxury bus with an air suspension facility. -lenth of the busis 10.5 meters having a seating capacity of 39 -separate engine provided for tir air-conditioning system - passengers journey will be more comfortable due to air suspension, attractive colour scheme and beautiful interior.THE FIRST SHEETAL, on trial basis , will run on dadar-pune-dadar route. journey hours 3 hrs 15min. fare adult will be 180. input SARAVANA.R
>>>Dr. Pratiksha declares war on heart disease on eve of World Heart Day>>>





India will soon become the world's heart disease capital. In the next two years, it is estimated to have 60% of the world's heart patients. And the number of young heart patients is growing rapidly. So it was hardly surprising, when, on the eve of the World Heart Day, a press conference called by India's first woman preventive cardiologist, Dr. Pratiksha, was packed to capacity. The pioneer in preventive cardiology is at the forefront of the World Heart Federation's Workplace Wellness initiative in India.


At the conference at Mumbai's Press Club on September 25, the cameras whirred and pens wrote furiously as Dr. Pratiksha revealed spine-chilling statistics revealing the extent of heart disease in India. "According to a recent study, there will be a 137% and 120% increase in heart disease for males and females in developing countries, including India. UnfortunaTely, most of them will be between the ages of 15 to 69 years." she said. "53.1 per cent of heart disease related deaths across the world are of women and the mortality rate among Indian women is far higher compared to that of other races," she added ominously.

But as Dr. Pratiksha outlined the Federation's strategies to reduce and prevent the disease, there was an audible sigh of relief. "It is true that India will soon become the heart disease capital of India. But it is also true that almost 80% of premature deaths can be prevented with a balanced diet, regular physical activity, avoiding tobacco and taking steps to reduce stress at work. On the 10th World Heart Day, the World Heart Federation has outlined 10 simple steps to prevent heart disease, especially at the workplace. She explained about the slogan ' I WORK WITH HEART' of world heart day this year. In India, we plan to spread awareness about these steps through public talks, walks, sporting events and so on. And we will leave no stone unturned to reduce the extent of heart disease in the country," said the doctor who has successfully treated serious heart patients without surgery at her IPC Heart Care Center in Mumbai. She discussed that 80% of cardiac cases can be treated by non-invasive cost effective treatments by sharing success stories of her patients present at the conference. Details are available on website: - www.ipc-india.org

But apparently, visitors wanted some more information on the important issue. And soon after the conference, several of them made a beeline to the noted doctor for some quick tips on prevention of heart ailments. Dr. Pratiksha not only obliged happily, but also treated them to a sumptuous – and healthy – array of snacks


BPH cases on the surge,Dr.DILIP
WOLRD RICH ICON FROM MUMBAI @2014: our city business man mukesh ambani will be become a world richest man in the earth