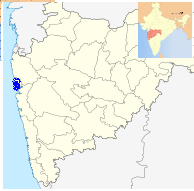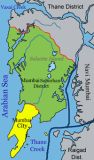 Mumbai: also known as Bombay is the capital of the Indian state of Maharashtra. It is the most populous city in India, and the most populous city in the world, with a population of approximately 14 million. Along with the neighbouring urban areas, including the cities of Navi Mumbai and Thane, it is one of the most populous urban regions in the world. Mumbai lies on the west coast of India and has a deep natural harbour. As of 2009, Mumbai was named an Alpha world city. Mumbai is also the richest city in India, and has the highest GDP of any city in South or Central Asia.
The seven islands that came to constitute Mumbai were home to communities of fishing colonies. For centuries, the islands came under the control of successive indigenous empires before being ceded to the Portuguese and subsequently to the British East India Company. During the mid-18th century, Bombay was reshaped by the British with large-scale civil engineering projects,and emerged as a significant trading town. Economic and educational development characterised the city during the 19th century. It became a strong base for the Indian independence movement during the early 20th century. When India became independent in 1947, the city was incorporated into Bombay State. In 1960, following the Samyukta Maharashtra movement, a new state of Maharashtra was created with Bombay as capital. It was renamed Mumbai in 1996.
Mumbai is the commercial and entertainment capital of India, generating 5% of India's GDP,and accounting for 25% of industrial output, 70% of maritime trade in India (Mumbai Port & JNPT), and 70% of capital transactions to India's economy.Mumbai is home to important financial institutions such as the Reserve Bank of India, the Bombay Stock Exchange, the National Stock Exchange of India and the corporate headquarters of numerous Indian companies and multinational corporations. It houses India's premier nuclear institutes like BARC, NPCL, IREL, TIFR, AERB, AECI, and the Department of Atomic Energy. The city also houses India's Hindi film and television industry, known as Bollywood. Mumbai's business opportunities, as well as its potential to offer a higher standard of living, attract migrants from all over India and, in turn, make the city a potpourri of many communities and cultures.
*climate
Mumbai has a tropical climate, specifically a tropical wet and dry climate under the Köppen climate classification, with seven months of dryness and peak of rains in July. The cold season from December to February is followed by the summer season from March to June. The period from June to about the end of September constitutes the south-west monsoon season, and October and November form the post-monsoon season.
Between June and September, the south west monsoon rains lash the city. Pre-monsoon showers are received in May. Occasionally, north-east monsoon showers occur in October and November. The maximum annual rainfall ever recorded was 3,452 millimetres (135.9 in) for 1954. The highest rainfall recorded in a single day was 944 millimetres (37.17 in) on 26 July 2005. The average total annual rainfall is 2,146.6 millimetres (84.51 in) for the Island City, and 2,457 millimetres (96.73 in) for the suburbs.
The average annual temperature is 27.2 °C (81.0 °F), and the average annual precipitation is 216.7 centimetres (85.31 in). In the Island City, the average maximum temperature is 31.2 °C (88.2 °F), while the average minimum temperature is 23.7 °C (74.7 °F). In the suburbs, the daily mean maximum temperature range from 29.1 °C (84.4 °F) to 33.3 °C (91.9 °F), while the daily mean minimum temperature ranges from 16.3 °C (61.3 °F) to 26.2 °C (79.2 °F). The record high is 40.2 °C (104.4 °F) on 28 March 1982, and the record low is 7.4 °C (45.3 °F) on 27 January 1962.
*Transport
Public transport in Mumbai
A red bus on a road. Blue letters are seen on its side
* BEST buses carry a total of 4.5 million passengers daily
Public transport systems in Mumbai include the Mumbai Suburban Railway, Brihanmumbai Electric Supply and Transport (BEST) buses, black and yellow metered taxis, auto rickshaws and ferries. Suburban railway and BEST bus services together accounted for about 88% of the passenger traffic in 2008. Auto rickshaws are allowed to operate only in the suburban areas of Mumbai, while taxis are allowed to operate throughout Mumbai, but generally operate in South Mumbai. Taxis and rickshaws in Mumbai are required by law to run on Compressed Natural Gas, and are a convenient, economical, and easily available means of transport. Mumbai had about 1.53 million vehicles in 2008, 56,459 black and yellow taxis, and 102,224 auto rickshaws, as of 2005.
Road
Mumbai is served by National Highway 3, National Highway 4 and National Highway 8 of India's National Highways system. The Mumbai-Pune Expressway was the first expressway built in India, while the Mumbai-Vadodara Expressway, Western Freeway and Eastern Freeway is under construction. The Bandra-Worli Sea Link bridge, along with Mahim Causeway, links the island city to the western suburbs. The three major road arteries of the city are the Eastern Express Highway from Sion to Thane, the Sion Panvel Expressway from Sion to Panvel and the Western Express Highway from Bandra to Borivali.
Mumbai's bus services carried over 5.5 million passengers per day in 2008. Public buses run by BEST cover almost all parts of the metropolis, as well as parts of Navi Mumbai, Mira-Bhayandar and Thane. Buses are generally favored for commuting short to medium distances, while train fares are more economical for longer distance commutes. The BEST operates a total of 4,013 buses with CCTV Camera installed, ferrying 4.5 million passengers daily over 390 routes. Its fleet consists of single-decker, double-decker, vestibule, low-floor, disabled-friendly, air-conditioned and Euro III compliant Compressed Natural Gas powered buses. Maharashtra State Road Transport Corporation (MSRTC) buses provide intercity transport and connect Mumbai with other major cities of Maharashtra and India. Navi Mumbai Municipal Transport (NMMT) also operate its Volvo buses in Mumbai, from Navi Mumbai to Bandra, Dindoshi and Borivali The Mumbai Darshan is a tourist bus service which explores numerous tourist attractions in Mumbai. Mumbai BRTS (Bus Rapid Transit System) lanes have been planned throughout Mumbai, with buses running on seven routes as of March 2009. Though 88% of the city's commuters travel by public transport, Mumbai still continues to struggle with traffic congestion. Mumbai's transport system has been categorized as one of the most congested in the world.
Due to further aggravation of congestion on roads due to hawkers and parked vehicles, MMRDA has initiated the Mumbai Skywalks project to provide quick and safe pedestrian dispersal from highly congested areas such as Mumbai Suburban Railway stations to heavily targeted destinations.
Rail
A brown building with clock towers, domes and pyramidal tops. A wide street in front of it
The Chhatrapati Shivaji Terminus, formerly known as Victoria Terminus, is the headquarters of the Central Railway and a UNESCO World Heritage Site
Mumbai is the headquarters of two of Indian Railways' zones: the Central Railway (CR) headquartered at Chhatrapati Shivaji Terminus (formerly Victoria Terminus), and the Western Railway (WR) headquartered at Churchgate. The backbone of the city's transport, the Mumbai Suburban Railway, consists of three separate rail networks: Central, Western, and Harbour Line, running the length of the city, in the north-south direction.Mumbai's suburban rail systems carried a total of 6.3 million passengers every day in 2007, which is more than half of the Indian Railways daily carrying capacity. Trains are overcrowded during peak hours, with nine-car trains of rated capacity 1,700 passengers, actually carrying around 4,500 passengers at peak hours.
Mumbai Metro is an underground and elevated rapid transit system currently under construction.The Mumbai Monorail, currently under construction, will eventually run from Jacob Circle to Wadala.
Mumbai is well connected to most parts of India by the Indian Railways. Long-distance trains originate from Chhatrapati Shivaji Terminus, Dadar Station, Lokmanya Tilak Terminus, Mumbai Central Station, Bandra Terminus, Andheri and Borivali.
Air
Chhatrapati Shivaji International Airport is currently India's busiest airport in term of passenger traffic.
The Chhatrapati Shivaji International Airport (formerly Sahar International Airport) is the main aviation hub in the city and the busiest airport in India in terms of passenger traffic. In 2007, it catered to over 25 million passengers. An upgrade plan initiated in 2006, targeted at increasing the capacity of the airport to handle up to 40 million passengers annually by 2010, is expected to be completed on time.
The proposed Navi Mumbai International Airport to be built in the Kopra-Panvel area has been sanctioned by the Indian Government and will help relieve the increasing traffic burden on the existing airport.
The Juhu Aerodrome was India's first airport, and now hosts a flying club and a heliport.
Sea
Mumbai is served by two major ports, Mumbai Port Trust and Jawaharlal Nehru Port Trust, which lies just across the creek in Navi Mumbai.Mumbai Port has one of the best natural harbours in the world, and has extensive wet and dry dock accommodation facilities.Jawaharlal Nehru Port, commissioned on 26 May 1989, is the busiest and most modern major port in India. It handles 55–60% of the country's total containerized cargo.Mumbai is the headquarters of the Western Naval Command, and also an important base for the Indian Navy.
Ferries from Ferry Wharf in Mazagaon allow access to islands near the city.
*Media
Mumbai has numerous newspaper publications, television and radio stations. Popular English language newspapers published and sold in Mumbai include the Times of India, Mid-day, Hindustan Times, DNA, and Indian Express. Popular Marathi language newspapers are Navakal, Maharashtra Times, Loksatta, Lokmat and Sakaal. Newspapers are also printed in other Indian languages. Mumbai is home to Asia's oldest newspaper, Bombay Samachar, which has been published in Gujarati since 1822. Bombay Durpan, the first Marathi newspaper, was started by Balshastri Jambhekar in Mumbai in 1832.
Numerous Indian and international television channels can be watched in Mumbai through one of the Pay TV companies or the local cable television provider. The metropolis is also the hub of many international media corporations, with many news channels and print publications having a major presence. The national television broadcaster, Doordarshan, provides two free terrestrial channels, while three main cable networks serve most households.
The wide range of cable channels available includes ESPN, Star Sports, Zee Marathi, ETV Marathi, DD Sahyadri, Mee Marathi, Zee Talkies, Zee TV, ETV Urdu, STAR Plus and news channels such as Star Majha. News channels entirely dedicated to Mumbai include Sahara Samay Mumbai. Satellite television (DTH) has yet to gain mass acceptance, due to high installation costs. Prominent DTH entertainment services in Mumbai include Dish TV and Tata Sky.
There are twelve radio stations in Mumbai, with nine broadcasting on the FM band, and three All India Radio stations broadcasting on the AM band. Mumbai also has access to Commercial radio providers such as WorldSpace, Sirius and XM.The Conditional Access System (CAS) started by the Union Government in 2006 met a poor response in Mumbai due to competition from its sister technology Direct-to-Home (DTH) transmission service.
Bollywood, the Hindi film industry based in Mumbai, produces around 150–200 films every year.] The name Bollywood is a portmanteau of Bombay and Hollywood.The 2000s saw a growth in Bollywood's popularity overseas. This led filmmaking to new heights in terms of quality, cinematography and innovative story lines as well as technical advances such as special effects and animation. Studios in Goregaon, including Film City, are the location for most movie sets. The Marathi film industry is also based in Mumbai.